First things first. Medicare Supplement Plan D and Medicare Part D are not the same. Medicare Supplement (Medigap) Plan D is supplemental insurance that works alongside Original Medicare A and B whereas Medicare Part D is a stand-alone prescription drug plan available through Original Medicare.
GET YOUR FREE QUOTE COMPARISON
 Or Call Us at 888-773-1181
Easy Article Navigation
Once you've enrolled in Medicare Part A and B, you are eligible to purchase a Medicare Supplement plan that is designed to fill the gaps in your Original Medicare health insurance.
Generally, these gaps are the result of deductibles, coinsurance, and copayments required in Medicare Part A and Part B coverage. Moreover, these gaps can result in significant out-of-pocket expenses, especially if you have health issues that require regular trips to the doctor or outpatient treatments.
Medicare Supplement Plan D is one of ten standardized Medicare Supplement plans that are available in all states except Minnesota, Wisconsin, and Massachusetts.
What does Medicare Supplement Plan D Cover?
When you review the ten standardized Medicare Supplement plans, Plan D lands about in the middle when it comes to benefits offered and plan pricing. The coverages provided in Plan B are:
Covers the deductible in Medicare Part A
Covers Medicare Part A coinsurance and hospital cost (up to 365 additional days beyond Medicare Part A
Covers the Medicare Part B copayments and coinsurance
Firsts 3 Pints of Blood
Covers the coinsurance requirement for hospice care in Medicare Part A
Coinsurance requirement for care in a skilled nursing facility
Pays for emergency medical expenses during foreign travel
What Medigap Plan D Does Not Cover
Plan D provides fairly comprehensive coverage except for two coverages that other plans might cover:
Plan D does not cover the Medicare Part B annual deductible. In fact, the only Plans that will cover the Part B annual deductible ($203 in 2021) are C and F but both plans are only available to seniors who first became eligible for Original Medicare before January 1, 2020.
Plan D does not cover Original Medicare Part B excess charges. Excess charges are allowed from doctors who do not accept Medicare assignment. These doctors can charge patients up to 15% more than what Medicare Part B has approved for services. Also, doctors who do not accept Medicare may require you to pay upfront for services and you would have to file a claim with Medicare for reimbursement.
The good news about excess charges is that eight states will not allow doctors to charge excess charges:
| | |
| --- | --- |
| Connecticut | Massachusetts |
| Minnesota | New York |
| Ohio | Pennsylvania |
| Rhode Island | Vermont |
How does Plan D Compare with the other Medicare Supplement Plans?
As far as benefits go, Plan D provides more coverage than A or B but lacks other coverages that may or may not be important to you.
Currently, Plan D offers more coverage than Plan A, Plan B, Plan K, Plan L, and Plan M, however, Plan K and L have out-of-pocket expense limits while Plan D does not.
As far as pricing goes, Medicare Supplement prices vary by company and the state you live in. Since Medicare Supplement plans are standardized, every plan sold by one company must offer the same benefits as every plan sold by another company.
However, how many plans a company will offer in each state is up to each individual company as well as the prices they choose to charge for each plan.
Additionally, any insurance companies offer additional benefits with their plans to help them compete for your business.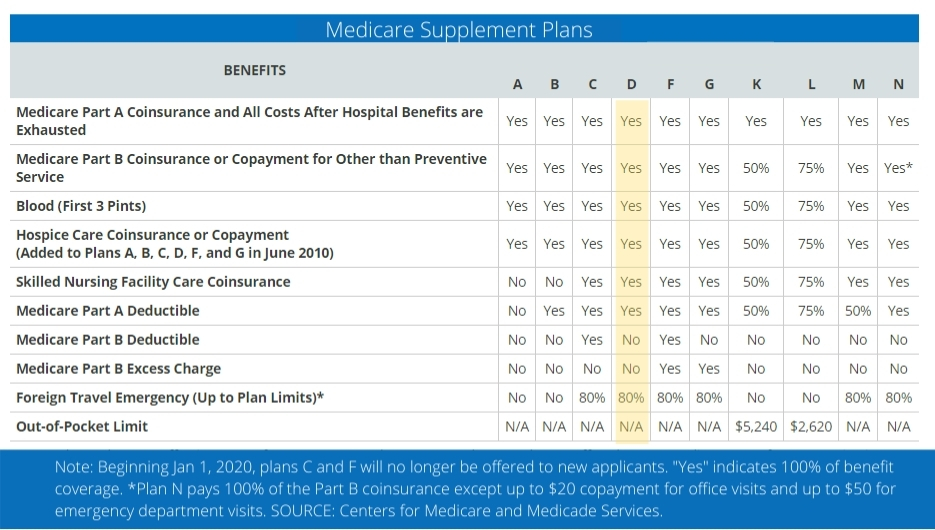 How Much Does Medigap Plan D Cost?
Although your cost for a Medicare Supplement Plan D will depend on the company you choose and the state you live in, we can offer a free personal plan comparison at your convenience.
Is Medicare Supplement Plan D Right for Me?
Medicare Supplement Plan D is a good option, but if you want more coverage, you may want to consider Medigap Plans G or N.
A little research can go a long way. You'll find that the right coverage will help you feel more financially secure in the future and you'll know in advance what you may be responsible for when it comes to healthcare services.
Most seniors who purchase a Medicare Supplement plan for the first time, tend to choose plans with the lowest premiums which means less coverage. If you are healthy and rarely see a doctor, this is probably the best way to look at supplemental insurance but for most of us who are 65 plus, we generally learn that health conditions can easily pop up unexpectedly.
A more logical point-of-view might be to purchase as much insurance as you can comfortably afford and hope that you'll rarely need to use it.
Finding a Medicare Supplement Plan is Easy
If you are looking for a plan that is right for you and prefer to do your shopping online, you should consider contacting an experienced and reputable independent insurance professional who represents many of the highly-rated carriers.
An independent broker like HealthPlans2Go will be able to shop your coverage quickly while offering coverage advice to meet your needs. More importantly, as an independent broker, HealthPlans2Go is not employed by any company we represent which allows us to put your needs first and foremost. You can call an insurance professional at HealthPlans2Go at 888-773-1181
Schedule a Virtual Appointment Today!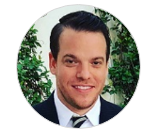 Latest posts by Josh Docktor
(see all)