GET YOUR FREE QUOTE COMPARISON
 Or Call Us at 888-773-1181
Cigna has been around since 1792, with roots in the Insurance Company of North America. The company has been known as Cigna since 1982.
Among its insurance offerings are Medicare Advantage and Medicare supplement (Medigap) plans. These help people with Medicare pay for healthcare services, including hospitalization, surgery, critical illness, dental care, vision care, and prescription drug coverage.
Plans are available in multiple states and help enrollees pay for costs such as deductibles, coinsurance, and copayments.
What do Cigna Medicare Supplement Plans Offer?
If you're on Medicare, then supplemental plans can help cover some of the costs you would normally be responsible for. These include:
The Part A coinsurance requirement
The Part B deductible (if eligible for Medicare before January 1, 2020)
The Part B coinsurance
Part B excess charges
The first three pints of blood
In addition to these costs, a supplemental plan can cover the cost of hospice and limited skilled nursing facility stays. And, you can get the coverage you need for medical emergencies while you're traveling abroad.
Get Extra Benefits from Cigna
The table below indicates coverages included in the various Medigap plans offered by Cigna insurance company: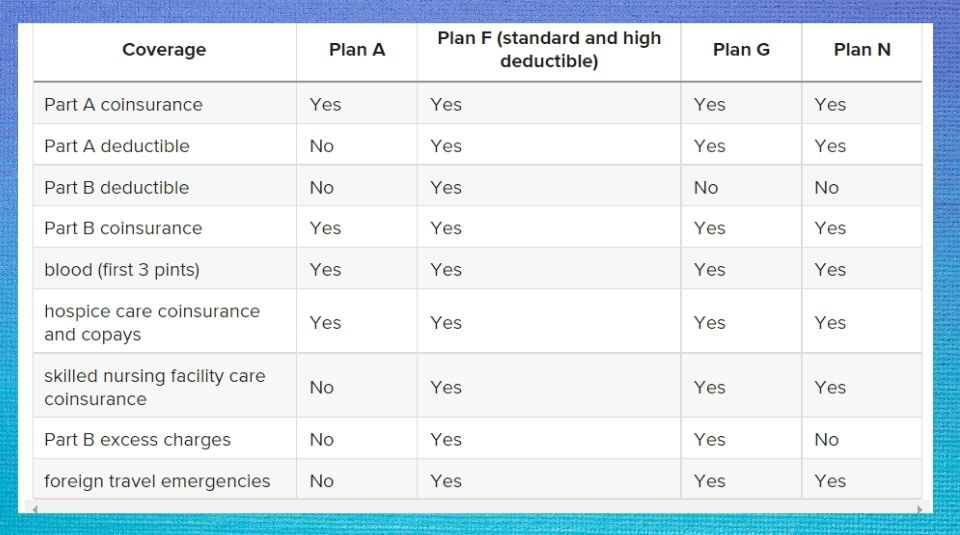 Cigna Medicare Supplement Plans Pros and Cons
Like many other private insurance companies authorized to offer Medicare Supplement plans, not all ten plans will be available in every state.

Plan Options with Cigna Medicare Supplement Plans (Medigap)
Cigna has five Medicare Supplement Plans: G, N, and A if you're on Original Medicare and Plans F and High Deductible Plan F if you were first eligible for Medicare before 2020.
To be eligible for Medicare Supplement Plans G, N, and A, you must be on Original Medicare. If you were first eligible for Medicare before 2020, Cigna has Plans F and High Deductible Plan F available to you.
Medicare Part A deductible coverage is included with most plans, but not Medicare Part B. Plans F and High Deductible Plan F are the only two that cover Part B deductibles.
All plans provide coinsurance or copays for Medicare Part B. The benefits are the same for everybody, but premiums may differ depending on health, age, gender, and location.
Cigna offers a variety of programs to make your health care experience as smooth as possible. The Healthy Rewards program offers discounts and savings for a variety of wellness programs. You can also use the Health Information Line to get more information about Medicare Supplement Plans.
Cigna Medicare Supplement (Medigap) Plans Reviews
Our agency has been working with Cigna Medicare supplements for a few years now. We've gotten to know their underwriting questions and can answer any eligibility questions you may have.
We've also gotten positive feedback from clients who have given us positive reviews for plans F and G.
When choosing a Medicare supplement carrier, it's important to do your research. We can look at the historic rate increase trend for carriers in your area.
Although finding the lowest-priced carrier is important, it's also necessary to examine the data we have in our exclusive reporting software to see how carriers in your county have increased rates in the past.
We do, however, expect Cigna Medicare Supplement plans to remain a top seller for us in 2022.
Free Services You Should Expect from HealthPlans2Go
Quote comparison from the highly-rated companies we proudly represent
Immediate search for available discounts that can save you money
Rate increase history trends from each company on your short-list
Current financial rating report from any company under consideration
Follow-up annually to make certain your renewal rate is still a bargain
Claims support whenever necessary
Free research for the best Medicare Part D plan (prescription drugs)
Outstanding customer service whenever you need it
Marketplace Ratings for Cigna Medicare Supplement Plans
Other Medicare Supplement Companies You Should Consider
Schedule a Virtual Appointment Today!