Affordable Dental Insurance Plans
After only a minimum amount of research, you can quickly learn that dental health plays an essential part in a person's overall health.
We know that poor oral hygiene can easily lead to cavities in our teeth, painful gum disease, and poor oral health can also be linked to cancer, diabetes, and even heart disease.
Knowing this, it is critical that individuals make a concerted effort to maintain their teeth and gums. Routine actions such as brushing and flossing your teeth regularly and limiting your intake of sugar can help avoid expensive and painful dental procedures and ward off other serious health issues.
Regular oral health maintenance should consist of:
brushing your teeth at least twice per day with toothpaste contains fluoride
flossing every tooth at least once per day
minimizing your intake of sugar
include a substantial amount of fruits and vegetables in your diet
avoid all tobacco products
drink water that is fluoridated
preventive visits to the dentist at least twice annually
Common Symptoms of Dental and Oral Problems
Rather than waiting for symptoms to manifest, it makes much better sense to visit a dentist at least twice a year for proactive preventive care.
Common warning signs for dental issues should be addressed as soon as possible:
swollen or bleeding gums after you have flossed or brushed your teeth
ulcers, sores, or tender areas that will not heal after 7 to 10 days
constant and chronic bad breath
when teeth or gums become sensitive to food or drink that is cold or hot
toothache pain
loose teeth
gums begin to recede
tooth pain while biting or chewing food
if swelling occurs of the cheek or face
if a clicking sound occurs when you open or close your mouth
broken or cracked teeth
constant dry mouth
If any of the above symptoms are accompanied by face or neck swelling or a high fever, emergency medical treatment will be necessary.
How much does Dental Care Cost?
The cost of dental care varies according to your geographic location and the provider you prefer to see for services.
Choosing preventive services twice per year is the most appropriate method for reducing dental costs. If you wait until you can no longer tolerate the pain or swelling associated with a dental issue, the cost to repair a tooth or heal your gums will generally be exacerbated by waiting to see a dentist.
Here's what you can expect to pay for typical services in 2021without the benefit of dental insurance:
| | |
| --- | --- |
| Cleaning | $70 – $200 |
| Fluoride Treatment | $20 – $50 |
| Filling (per tooth) | $50 – $450 |
| Crown (per tooth) | $500 – $3,000 |
| Implant (per tooth) | $1,000 – $2,500 |
| Bonding (per tooth) | $1000 – $1,000 |
| Veneers | $500 – $1,300 |
| Braces | $1,000 – $3,000 |
| Invisalign clear braces | $3,000 – $8,000 |
Unless you are willing to pay out-of-pocket for dental services for you and your family, buying an affordable Dental Insurance Plan will always be your best option.
What do Dental Insurance Plans Cover?
Although dental insurance plans vary from company to company, most plans divide coverages into three categories:
| | |
| --- | --- |
| Preventive Care | Preventive care covers routine cleanings for all covered persons on the policy and fluoride treatments for children under the age of 16. Preventive care coverage generally has no deductible or waiting period before coverage begins. |
| Basic Dental Services | Basic dental services consist of simple fillings or emergency treatment to relieve dental pain. |
| Major Dental Services | Major dental services typically cover services such as retainers, root canals, and extractions. These services are often subject to your plan deductible and usually have a waiting period of 6 months or more before coverage kicks in. |
Most dental insurance plans use a dental network that offers access to an extensive network of providers in both private and retail settings.
Insureds will not need to submit claims since the providers will bill the insurance company directly for their portion of the service fees.
Additionally, there is generally no age limit for purchasing dental insurance. Since Medicare does not offer dental coverage, most dental insurance companies offer plans designed specifically for the needs of seniors.
 Companies that offer the most Affordable Dental Insurance
After comparing the top-rated insurance companies that offer dental plans, HealthPlans2Go has decided to partner with United HealthCare and Cigna Insurance Company.
Both United Healthcare and Cigna offer comprehensive dental insurance plans that vary state by state, with some plans that combine vision insurance along with dental coverage.
Affordable Dental Insurance Plans from United Healthcare
United Healthcare offers several plans that can accommodate the budget of virtually every applicant.
Their dental insurance plans are designed to offer services that can fit the applicant's budget by using different levels of coinsurance for preventive, basic, and major services along with a waiting period for each service.
By offering four dental plans to choose from, individuals and families can generally find a dental plan that will easily fit most any budget.
UnitedHealthcare Gen Saver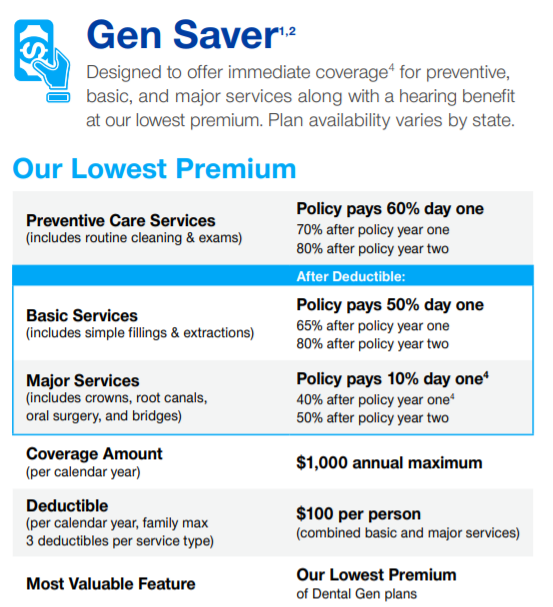 UnitedHealthcare Gen Basic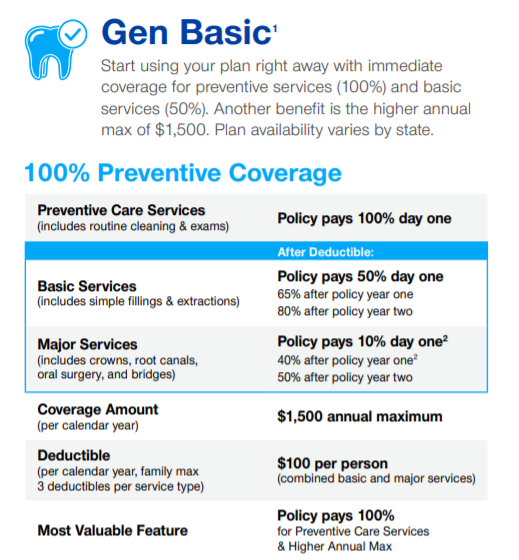 UnitedHealthcare Essential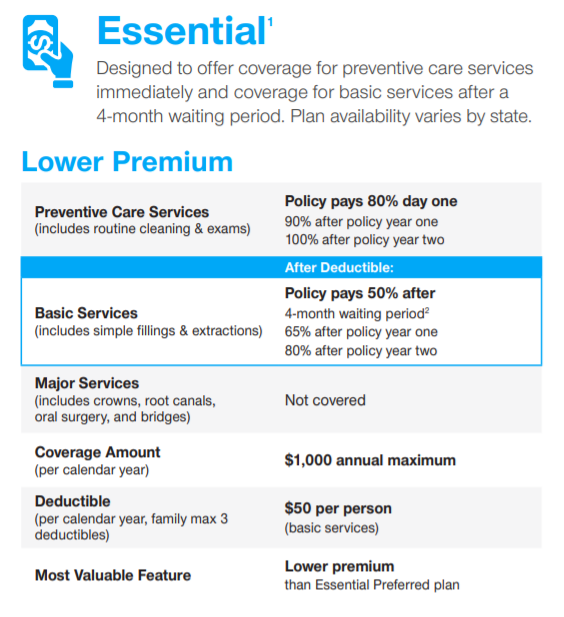 UnitedHealthcare Gen Plus
UnitedHealthcare Gen Deluxe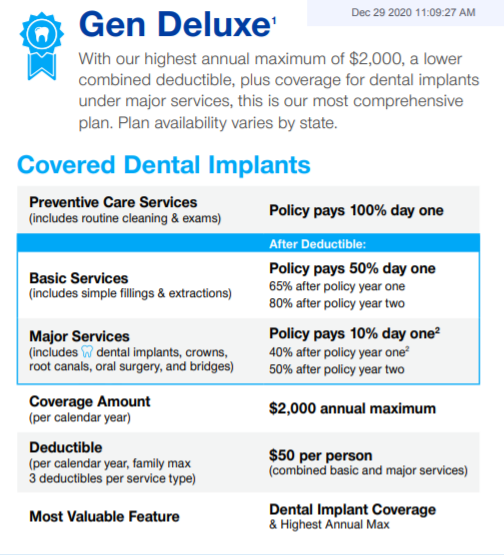 UnitedHealthcare Essential Preferred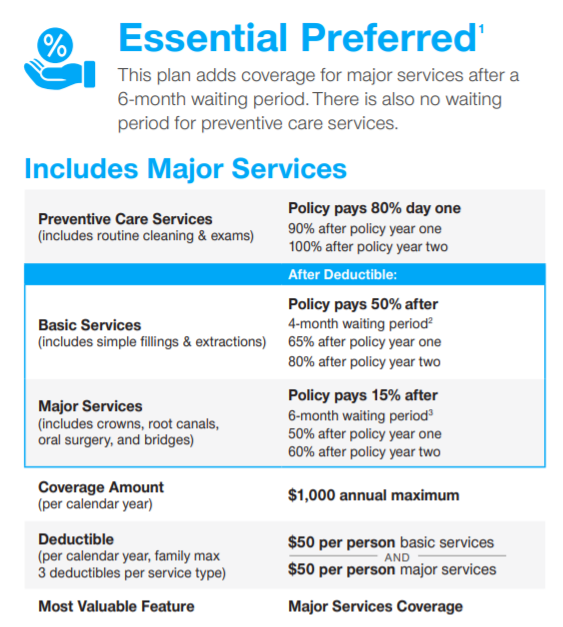 Cigna Dental Plans
We have also chosen Cigna Dental Plans as one of our go-to provider for dental coverage. Cigna is a highly-rated and well known insurance company that services millions of policyholders across the country.
We have chosen Cigna not only for its affordable pricing, but also for:
$0 Cost Preventive Care
Insureds will pay zero dollars for semiannual dental exams that include cleanings, an oral exam, and x-rays. No deductible or copays!
Nationwide Network of Providers
You can visit any of our over 93,000 dentists and specialists in over 297,000 locations across the country.
Customer Service 24/7 every day of the Year
Cigna offers around-the-clock customer service for your convenience. (800) 997-1654.
Access to Cigna's Brighter Score Feature
Policyholders can compare our network dentists and specialist scores for affordability, costs and ratings, and professional history.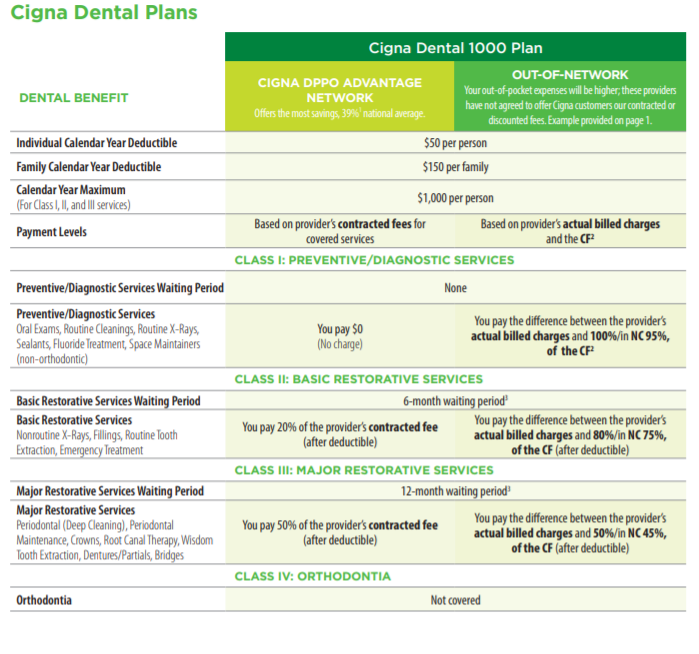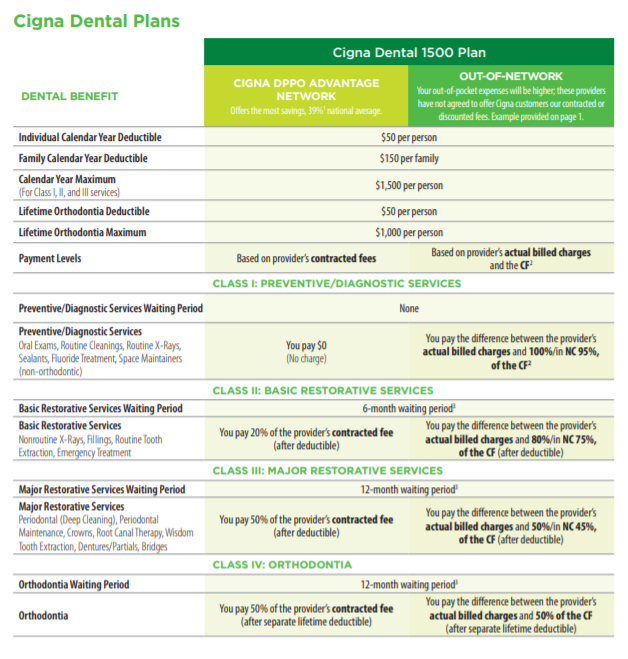 Cigna Dental Preventive Plan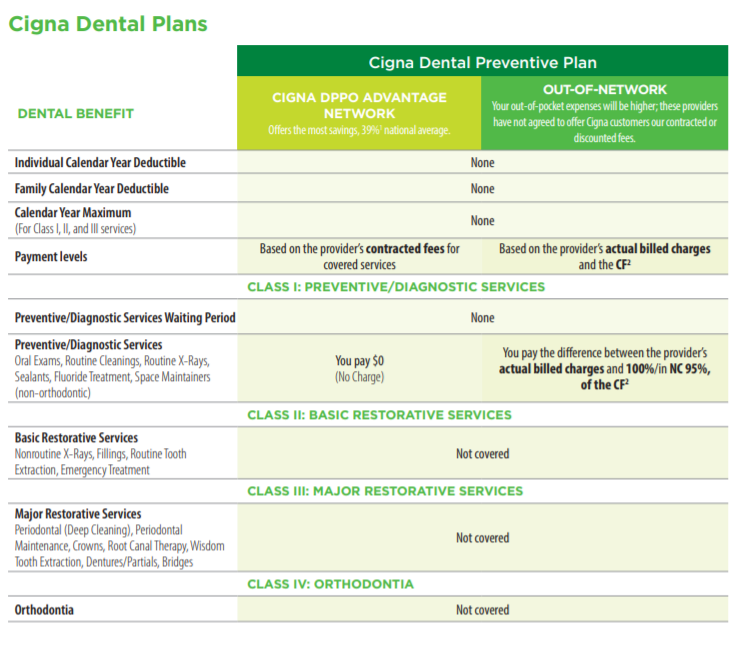 If you've decided that out-of-pocket dental expenses are going up every year and you'd prefer to have a highly-rated insurer to pick up the majority of your dental expenses, call us now to find dental insurance plans that will fit in your budget.