If you watch any television during November and December, you're likely to see a lot of Medicare Advantage Plan commercials because of the Annual Enrollment Period.
There are about four Medicare Advantage Plan advertisers who spend a ton of money pushing Medicare Advantage (Medicare Part C), and more often than not, they will mention that some of the plans are free. But wait, how can health insurance for seniors be free? Is that even possible?
Easy Article Navigation
The truth of the matter is that free Medicare Advantage Plans are not free because the applicant must continue to pay their Original Medicare Part B premium to Medicare, which then forwards that premium to the insurance company with who the applicant has signed up with
Here we'll shine some light on the subject and determine if and why are some Medicare Advantage Plans free.
What is Medicare Advantage?
Medicare Advantage, also known as Medicare Part C, is health insurance provided by private insurance companies and is available to seniors who want more coverage than what is available from Original Medicare.
Although all Medicare Advantage Plans must include the same coverage available in Original Medicare Part A and Part B, Medicare Advantage Plans generally provide much more coverage and various additional benefits that are not available through Original Medicare.
Every Medicare Advantage plan must include the following basic coverages:
Hospital Coverage (inpatient and outpatient), home healthcare expenses, hospice care, and nursing home care.
Medical Coverage that pays for doctor's office expenses for treatment of most medical conditions and preventive care
Generally, all private insurance companies that offer Medicare Advantage plans also provide additional benefits like dental coverage, vision and hearing coverage, prescription drug coverage, and in many cases, a gym membership called Silver Sneakers.
Are all Medicare Advantage Plans the Same?
Other than the mandatory coverages from Medicare, Medicare Advantage plans differ from company to company because of additional benefits that companies can offer.
For example, one of the plans offered by UnitedHealthcare through AARP provides a quarterly allowance for policyholders to purchase over-the-counter medicines, supplements, and medical equipment.
The other primary differences among Medicare Advantage plans is how medical coverage is delivered and who is authorized to provide healthcare services. There are five Medicare Advantage plans to choose from, and many companies will offer all five:
Health Maintenance Organization (HMO

Plan) – The HMO plan requires the policyholder to use a doctor or medical facility that is a member of the HMO used by the insurance company. Policyholders using an HMO plan generally have to select a Primary Care Provider who is responsible for coordinating all healthcare services for the policyholder.

Preferred Provider Organization (PPO Plan) – A PPO plan offers flexibility when choosing a doctor or hospital. Although there is a network of preferred providers, there are not as many restrictions on seeing out-of-network providers. In addition, your PPO plan will pay healthcare costs if you see an out-of-network provider, although the company may pay less of the bill than if the doctor was a member of the PPO.
Special Needs Plan (SNP) – An SNP plan is a Medicare Advantage (MA) coordinated care plan (CCP) designed to provide targeted healthcare and limit its enrollment to qualified special needs individuals. A special needs applicant could be any one of the following:

An institutionalized individual,
A dual eligible, or
An individual with a severe or disabling chronic condition, as specified by CMS.

Private Fee for Service Plan (PFFS) – A Private Fee for Service plan is more flexible than HMO or PPO plan and generally allows the policyholder to receive healthcare services from any medical provider who has agreed to accept Original Medicare.
Medical Savings Account (MSA) – An MSA plan is considered a low-cost solution for applicants who are healthy and can afford to pay a large portion of any medical services they might need. The MSA Plan is a combination of a medical savings account along with high-deductible health insurance.
Is a Zero Premium plan inferior to Plans that Charge a Premium?
A zero-premium Medicare Advantage plan typically offers the same coverages found in Medicare Advantage plans that charge a monthly premium and were designed by the private insurance companies in order to compete with Original Medicare and Medigap insurance.
Typically, health insurance companies will offer zero-premium plans in areas where they've determined they can cover healthcare expenses cheaper than in other parts of the country.
They can do this by using network providers who can accept lower fees for the services they provide. Usually, you can purchase a zero-premium plan if you're located in an area that has a lot of healthcare providers who are enrolled in the HMO or PPO network the company uses.
Are zero-premium Medicare Advantage Plans Free?
The truth of the matter is since you are required to continue paying the Medicare Part B premium, which makes its way to the insurance company you select, the zero-premium Medicare Advantage plan is not free health insurance coverage.
Moreover, even though you will not pay a monthly premium to the health insurance company you enroll with, you will continue to have certain out-of-pocket expenses to contend with until you reach your annual out-of-pocket expense limit.
These out-of-pocket expenses are generally the result of deductibles, coinsurance, and copays that you will be responsible for.
How to Find Zero-Premium Medicare Advantage Plans in Your Area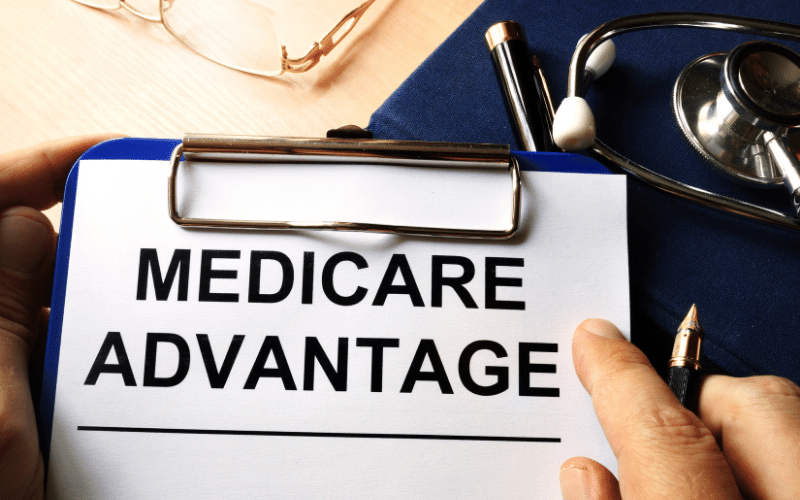 The best way to find out if a health insurance company offers zero-premium Medicare Advantage plans in your area is to contact an experienced and reputable independent health insurance agent.
Because independent agents are not controlled by one health insurance company, they are free to represent virtually all Medicare Advantage Plan providers.
By representing multiple insurance companies, an independent agent can rate your medical coverage with all of the companies they represent and find the best solution and value to meet your independent circumstances.
When you enroll in a Medicare Advantage plan through an independent insurance agent, that agent becomes your advocate and will offer their experience to help you navigate the giant medicare marketplace.
You can also do your own research on the marketplace by using the Find a Medicare Plan tool at Medicare.gov.
In Conclusion
We certainly understand that finding the right Medicare plan can be confusing and, at times, overwhelming. Knowing this, HealthPlans2Go is available to anyone across the country who is looking for quality Medicare Advantage coverage with low to no premiums and outstanding customer service.
Frequently asked Questions
1.

What is the real cost of a zero-premium Medicare Advantage Plan?

Although a zero-premium Medicare Advantage plan seems out-of-the-ordinary, remember, you must still pay your Medicare Part B premium to Medicare.

2.

Do Medicare Advantage Plans have no out-of-pocket costs?

All Medicare Advantage plans have out-of-pocket costs for healthcare services. Typically these costs are attributed to coinsurance costs and deductibles.

3.

Why are some Medicare Advantage Plans Free?

Typically, the free or zero-cost plans are offered in areas where the insurance company has many members in its network and therefore, the insurance company can manage healthcare costs more efficiently than Medicare.

4.

Are the free plans inferior to other plans that cost more?

Depending on your geographic location, zero-premium Medicare Advantage plans are just as good as plans than plans that require a monthly premium on top of the Medicare Part B premium.
GET A FREE PLAN COMPARISON!
Book an Appointment with HealthPlans2Go
Annual Enrollment Period
OCTOBER 15th – DECEMBER 7th
Coverage Begins January 1st
Book an Appointment with HealthPlans2Go
Open Enrollment Period
JANUARY 1st – MARCH 31st
Coverage Begins 1st of the Following Month