What does Medicare Supplement Plan G Cover?
Let's be clear. Medicare Supplement Plans can be a little confusing, especially when you compare all ten of them side-by-side.
Even though every plan must include basic coverages that are mandated by Medicare, depending on the plan and the insurance company, there are differences that must be considered so you can find the right plan for your circumstances.
Circumstances that are common to most seniors can significantly impact which plan will work best for you coverage-wise and financially.
Let's face it; the only thing that most Medicare Supplement (Medigap) shoppers have in common is that they must be at least 65 years old.
Easy Article Navigation
How often you see your doctor and what you are being treated for can have an impact on the plan you buy and thus how your premium will impact your budget. If you're very healthy and rarely see a doctor, why would you spend the money required to purchase a Medicare Supplement plan that covers virtually everything?
Here, we'll discuss one of the most popular plans and drill down into the coverages you might or might not need: Medicare Supplement Plan G.
Medicare Supplement – Medigap Overview
Currently, there are ten standardized Medigap (Medicare Supplement) plans that have been authorized for sale in 47 states: A, B, C, D, F, G, K, L, M, and N. All of these plans are designed to fill the gaps in Original Medicare that are a result of deductibles, copays, and coinsurance.
When you are enrolled in a Medicare Supplement plan you can use any physician, hospital, or other medical facilities that accept Medicare. All healthcare providers and facilities must be enrolled in Original Medicare and accept new Medicare patients.
Most but not all doctors and hospitals accept Original Medicare patients and will therefore accept any Medigap plan. Moreover, if you travel outside of the U.S., six of the 10 plans will cover emergency medical expenses outside the U.S., subject to your particular plan's limits.
What does Medigap Plan G Cover?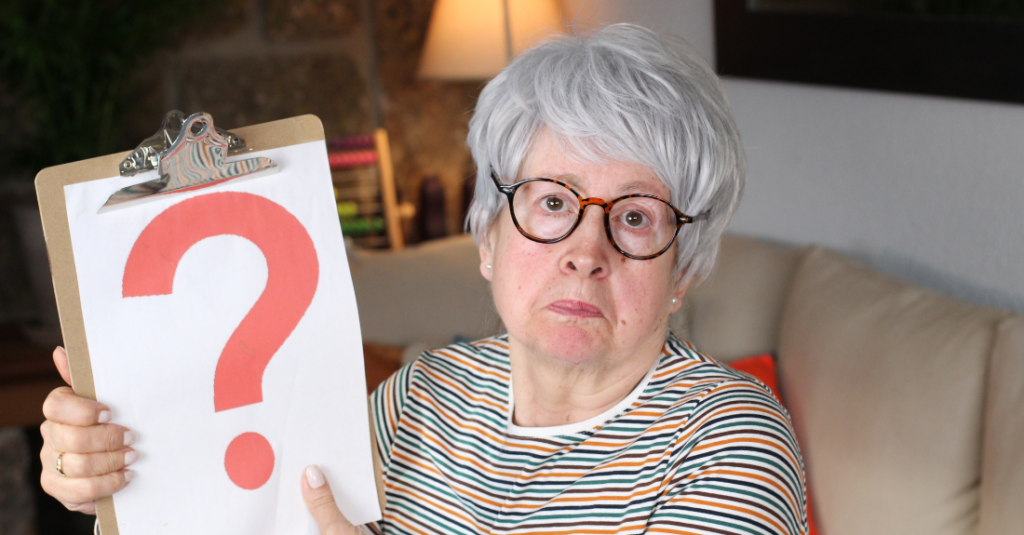 Plan G is fairly comprehensive in the coverage it provides, but there are several medical services that aren't covered, so it's vitally important that every applicant understands the out-of-pocket costs that are associated with Plan G.
The way all Medicare Supplement (Medigap) plans work is when you see a doctor, have lab work, have emergency services, or are admitted to a hospital, Original Medicare pays its share first, and then the balance of costs are sent to the company where you have your Medicare Supplement plan.
Here's what Medicare Supplement Plan G will cover: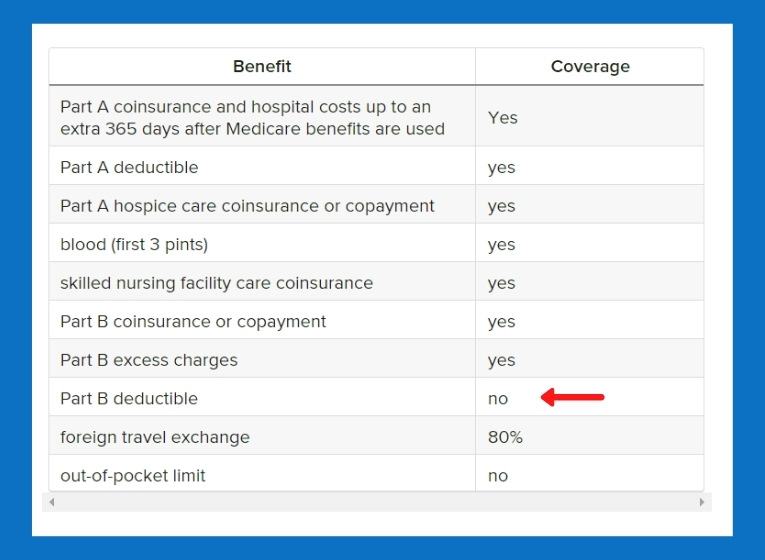 Notice the red arrow pointing to the Original Medicare Part B deductible. Medigap Plan G will not pay this (after Jan 1, 2020, no plan will), so this is an out-of-pocket expense for the policyholder.
This is a minor concern for most applicants because the Original Medicare Part B annual deductible is only $233 for 2022. The savings on the monthly premium will actually offset the deductible and make it kind of a moot point.
What's Not Covered in Medigap Plan G?
As we illustrated in the chart above, Medigap Plan G appears to be comprehensive coverage (except for the Medicare Part B deductible), but there are some healthcare services that it will simply not help with.
Most important for Medicare Supplement shoppers is that no Medicare Supplement plan pays for prescription drugs. For that coverage, shoppers will have to enroll in Original Medicare Part D or a Medicare Advantage Plan (which is something we can help you with) to make sure that you get help with your drug costs.
As with prescription drug costs, a Plan G will not cover any of the following:
Hearing Aids
Vision (including glasses)
Private-duty nursing
Long-term care services
If you believe any of these non-covered items may be a deal-breaker, HealthPlans2Go will be happy to discuss stand-alone coverage for any of the healthcare services listed above or a Medicare Advantage Plan. We represent the top-rated insurance companies that offer any of the services you prefer to have covered.
Who is Eligible to Enroll in Medicare Supplement Plan G?
Anyone who has enrolled in Medicare Part A and Part B is eligible to enroll in Plan G. More importantly, however, is that if you have one or more pre-existing medical conditions, you may be subject to higher rates or a waiting period for coverage of pre-existing conditions unless you enroll during your initial open enrollment period or a special enrollment period..
During your initial Open Enrollment Period or a Special Enrollment Period, you will have guaranteed issue rights that preclude the insurance company from taking your current health into consideration.
Some states have additional special enrollment rights so be sure and check with a Medigap insurance specialist that is familiar with the Medicare rules in your state.
Should you decide to enroll in Medigap outside the Open or Special enrollment periods, you'll likely not have a problem if you are in good health.
If you're currently enrolled in a Medicare Advantage plan and are interested in enrolling in Plan G, you'll need to switch back to Original Medicare first (If you have either Medicare supplement or Original Medicare coverage).
Each year, you can make this change during individual open enrollment periods (which start October 15th every year) or during the Medicare Advantage Open Enrollment during the first quarter of the year.
Are all Medigap Plan G the Same?
You'll be happy to know that after reviewing this Plan G article, you'll know what every insurance company's Plan G consists of because they are the same with each insurance company.
The only difference between a Medicare Plan G with company A and a Medicare Plan G with company B is the premium they charge for your coverage.
Merely knowing this minimizes the confusion most insurance shoppers encounter when shopping for Medicare Supplement Insurance.
However, you should compare Plan G with the other plans that are available to make certain Plan G is the right fit for your circumstances and budget. Additionally, seniors should consider each carrier's reputation along with its financial ratings to achieve the comfort level needed to do business with it long term.
It's also important to note that insurance companies change premiums (typically increases) regularly. Rate changes can be addressed during the annual open enrollment period when you can buy new coverage, change plans, or cancel coverage.
Finally, some insurance companies are better at customer service than others, which means this should be part of your purchase decision as well. You can easily check the Better Business Bureau's website to review complaints from consumers and whether they were addressed by the insurance company.
How Much Does Medicare Supplement Plan G Cost?
Although your cost for Plan G depends on several factors, including the area in which you live. The average cost for Medigap Plan G generally ranges from $100 to $300 per month.
Your age, health, and zip code are the primary factors that affect your monthly premium but also if your residence is in an area that has a higher cost of living.
If you're interested in Medigap Plan G, but can't afford the monthly premium, there are ways to get it at a lower price. High Deductible Plan G offers the same benefits as Plan G for a lower monthly cost. But remember, you'll need to reach the higher deductible before you get full coverage.
What is the Medigap Plan G Rate Increase History
There are many factors that affect how much your Medicare Supplement plan rates increase, including when you enrolled and the type of plan you enrolled in. The average annual rate increase for Medicare Supplement Plan G is 2-6%.
There are three different rating methods that companies who offer Medigap insurance can use:
| | | |
| --- | --- | --- |
| Rating Method | Pricing | How it will Impact You |
| Attained Age Rated | Your premium will be based on your age at the time of application | Your premium will be lower the sooner you apply for coverage but will go up each year as you get older. |
| Issue Age Rated | Your premium will be based on your age when your policy is issued. | Premiums will be lower for people who purchase a plan at a younger age and will only increase because of inflation and other factors but not your age. |
| Community Rated | With community rating, your premium is based on the plan you select, not your age. | Since your premium isn't based on your age, any increases will be the result of inflation and other factors. |
How can I compare all Medicare Supplement Plans?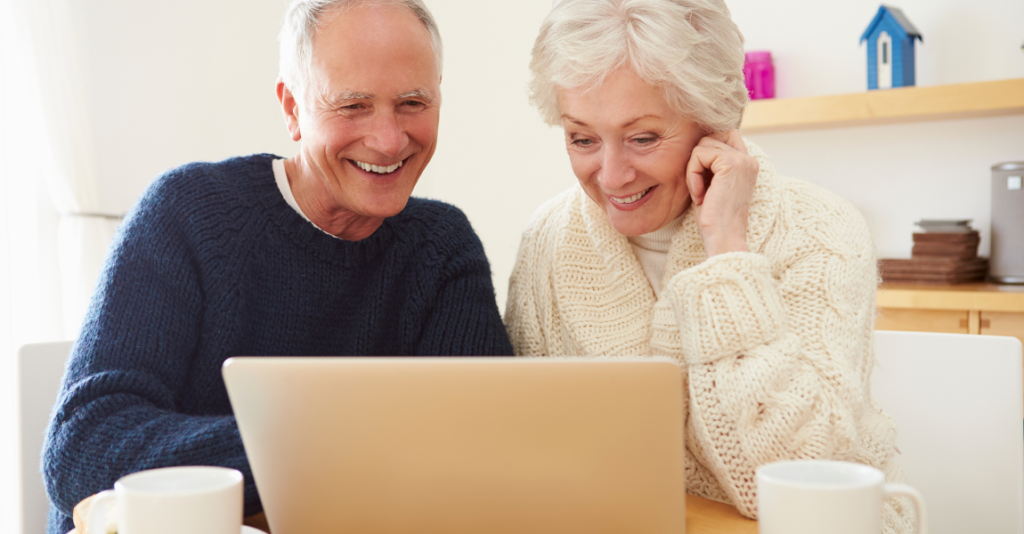 The best method for comparing Medigap Plans is to review them side-by-side. Like other independent health insurance agencies, HealthPlans2Go offers an easy-to-read chart that shows coverages offered under each approved Medicare Supplement Plan: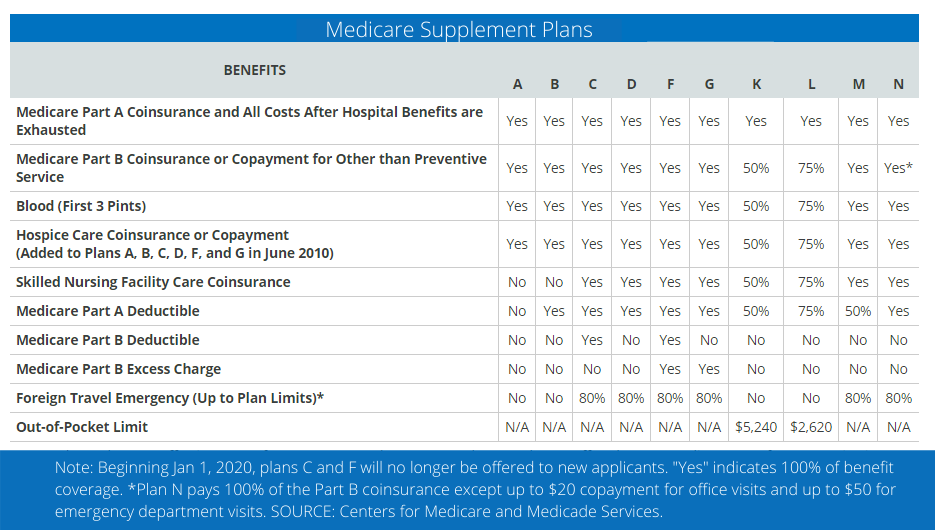 Where can I get Help with Shopping for Medigap Insurance?
We invite and encourage you to visit the HealthPlans2Go website for information about any health insurance coverage you may be shopping for. As an independent agency that specializes in health insurance, HealthPlans2Go provides valuable information regarding most health insurance products:
We also invite you to speak with one of our insurance professionals to get first-hand and updated information about any of the products we represent or to get confidential quotes with no purchase obligation. You can reach us at (888) 773-1181 or contact us through our website at your convenience.
Frequently Asked Questions about Plan G
How much does Medicare Supplement Plan G cost?

There is no set premium for Plan G. Your monthly premium will depend on where you live, your gender, tobacco use, and more. Visit our website or call us today for a free and confidential quote.

Is Plan G better than Plan F?

Although Plan F covers the Part B deductible and Plan G does not, the reduced premium typically offsets the difference, so Plan G may be a better value. Also, Plan F will no longer be open for new business effective Jan 1, 2020.

Does Plan G cover prescription drugs?

Plan G will cover the coinsurance on medications administered in a clinical setting, such as chemotherapy or injections for autoimmune diseases. However, Plan G does not cover outpatient prescriptions that you would purchase at a pharmacy. You can, however, purchase a stand-alone Medicare Part D plan that will cover outpatient prescriptions.

What is the Medicare Part B deductible for 2022?

The annual Part B deductible for 2022 was increased from $203 to $233.
GET YOUR FREE QUOTE COMPARISON
 Or Call Us at 888-773-1181
Schedule a Virtual Appointment Today!
Click on any Plan to Learn More about its Coverage