GET YOUR FREE QUOTE COMPARISON
 Or Call Us at 888-773-1181
Medicare Supplement Plan M – Is it Right for You?
With 10 standardized Medicare Supplement Plans to choose from, it's no wonder many seniors get a little stressed when it comes to shopping for a plan that would be firth for them.
Easy Article Navigator
Certainly, there are a lot of things to consider to make certain that you're getting the healthcare coverage you need without knocking a significant hole in your healthcare coverage budget.
There is one aspect about shopping for Medicare Supplement insurance that makes things a little easier, however, all of the plans are the same. The Plan M you're offered from Humana is the same as the Plan M you'll find at UnitedHealthcare.
Knowing this, you can shop by price once you've decided on the coverages you'll need.
Here are the Medicare Supplement Plans (Medigap Plans) that are currently offered in all but three states: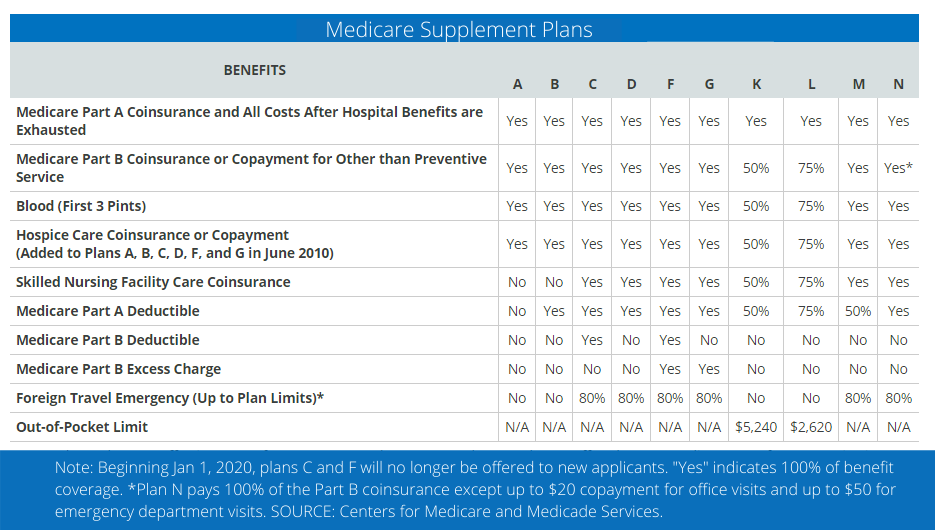 At first glance, many of these plans appear very similar, but after taking a closer look you'll notice that Plan N for example, provides much more coverage than Plan A.
Moreover, if you happen to reside in Massachusetts, Minnesota, or Wisconsin, those states have a modified version of the federally standardized plans listed above.
What does Medicare Supplement M Cover?
Medicare Supplement Plan M was designed to offer lower monthly premiums in exchange for the policyholder taking on a little more risk.
For example, when most plans pay the entire Medicare Part A deductible, Plan M kicks in 50% of the deductible which allows them to reduce the monthly premium.
Here are the benefits provided by Medicare Supplement Medigap) Plan M
| | |
| --- | --- |
| Medicare Part A coinsurance & hospital Costs (up to an additional 365 days after Medicare benefits are used) | Yes |
| Medicare Part B Copayment or Coinsurance | Yes |
| First 3 Pints of Blood | Yes |
| Medicare Part a hospice care copayment or coinsurance | Yes |
| Skilled Nursing care coinsurance | Yes |
| Medicare Part A deductible | 50% |
| Medicare Part B deductible | No |
| Medicare Part B Excess Charges | No |
| Foreign Travel Medical Emergency (up to plan limits) | Yes |
So, by reviewing the coverages above, the Plan M policyholder would be responsible for the Medicare Part A deductible which is $1,484 for 2021 or $742, and 100% of the Part B deductible which is currently $203.
Under Medigap Plan M, the policyholder would be responsible for any excess charges that can be added by a provider who does not accept assignment. Currently, eight states have banned excess charges
Connecticut
Massachusetts
Minnesota
New York
Ohio
Pennsylvania
Rhode Island
Vermont
If you happen to reside in the 8 states listed above, the excess charges issue is a moot point.
How Do I Know if Medigap Plan M is Right for Me?
One of the most apparent things we see in a person shopping for a Medicare Supplement plan is that they want to bridge the expensive healthcare gaps that Original Medicare contains and reduce their out-of-pocket costs for healthcare.
Since Plan C and Plan F is no longer offered to seniors who first became eligible for Medicare after January 1, 2020, neither of the 10 available plans will prevent you from paying some healthcare costs out-of-pocket.
Additionally, Medicare Supplement plans don't cover dental, vision, hearing, or retail prescription drugs. So, your best intention will be to select a plan that provides enough coverage according to your current health needs and at a premium that will fit your budget.
Remember, in addition to your Medigap premium, you'll still be responsible for your monthly Medicare Part B premium.
If you are a healthy senior who rarely visits a physician, and you are looking for a Medigap Plan that will be less costly than some of the others out there, Medicare Plan M may just be the better plan for you.
What if I Made the Wrong Decision? Am I Stuck with Plan M?
Certainly, you can change your Medicare Supplement plan if you're no longer happy with a plan you purchased. You can change your plan at any time but you will be subject to underwriting by a new insurance company.
This means that the company could increase your rates or decline your coverage unless you are still in your one-time open enrollment period
Many seniors get their Open Enrollment Period confused with the annual enrollment period which has to do with Medicare Part D (prescription drugs) and Medicare Part C (medicare advantage.
With Medicare Supplement plans, there is never a deadline for changing your plan as long as you are willing to go through the required medical underwriting.
How to Compare all the Medicare Supplement Plans and Choose One that's Best for Me?
As we mentioned earlier, most states have 10 Medicare Supplement Plans to choose from, and for many seniors, the shopping process can become overwhelming.
With the technology available today, you can contact an experienced and reputable Medicare consultant online or over the phone who will gladly listen to your needs and then offer the best solution available from the many insurance companies they represent.
It's always best to speak with an independent Medicare specialist like the pros at HealthPlans2go to get help finding the plan you want that will fit in your budget. An independent agent will charge you nothing to advocate for you during the shopping, purchasing, and underwriting process.
Speak with a Plan Specialist
Schedule a Virtual Appointment Today!