National General Short Term Health Insurance
Short Term Health Insurance is gaining in popularity year after year. The reason, we believe, is that individuals and families are finding that ACA health insurance (Obamacare) has become more expensive than initially advertised by the Obama administration.
Moreover, consumers are more concerned about a lapse in health insurance coverage than ever before. A lot of this concern is due to Covid-19 and how the pandemic is affecting healthcare coverage.
Easy Article Navigation
Uncertainty affects the marketplace in many ways because what was once certain, like your job, is no longer a given. For many people, when their job goes, so does their health insurance.
Let's face it. Getting injured or becoming seriously ill while you're uninsured can turn into a financial disaster. So, if you are between jobs or finding ACA health insurance unaffordable, the National General's short-term health insurance could be a lifesaver.
What is Short-Term Health Insurance?
Short-term health insurance is temporary medical insurance that can fill in the gaps when you find yourself uninsured. Although pre-existing conditions are typically not covered, having a short-term health insurance policy is much better than risking everything while being uninsured.
National General Short Term Health Insured is an excellent solution for:
Individuals who missed the ACA open enrollment period
Individuals and families who are searching for a cheaper alternative to major medical coverage
Individuals who are between jobs or are in the probationary period at a new job and waiting for their group health insurance to kick in.
College students who are leaving their parent's plan and need health insurance that is quick to purchase and affordable
What does National General Short-Term Health Insurance Cover?
Although National General's short-term health coverage is not considered comprehensive health insurance, the plans are very affordable and offer coverage for most illnesses and injuries.
The plans offer coverage for doctor visits, some preventive care, emergency room and urgent care, ambulance coverage, and much more.
Like National General, most short-term health plans allow the policyholder to choose plans that will best meet their needs and budget. Plans are available with coverage term maximums of $250,000 to $1,000,000.
Applicants also have options on deductibles and coinsurance that will help them purchase coverage they can afford.
Through National General's short-term health plan, policyholders will have access to healthcare using any of the providers who are members of the national Aetna Open Choice PPO Network.
What does National General Short-Term Health Insurance Not Cover?
Since short-term health insurance policies do not have to comply with the federal requirements for health insurance, the plans typically exclude pre-existing conditions and maternity coverage.
Short-term health policies also exclude coverage for hazardous activities such as bungee jumping, rock or mountain climbing, rodeo activities, hang gliding, and parachute jumping.
Does National General offer multiple Plan Choices?
Knowing that circumstances and budget can impact the plan that will be right for you, National General offers the applicant several choices in designing a plan that will work best for individuals and families across the country.
Standard Issue Short-Term Medical Plans
 The Standard Issue plan allows you to select a deductible and coinsurance option as well as the maximum coverage provided for the policy period: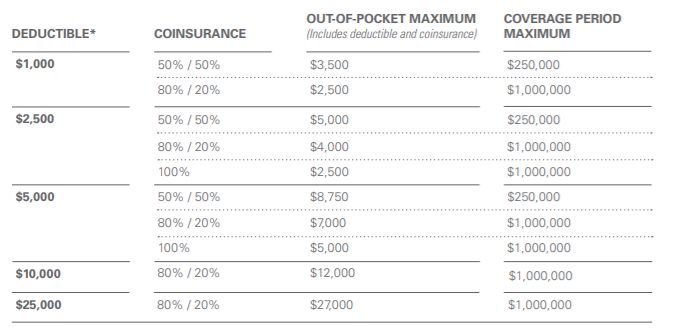 Guaranteed Issue Short-Term Medical Plans
The National General Guaranteed Issue plan offers coverage without the possibility of being denied. Simply choose your plan design, fill out the health questionnaire, and you're good to go!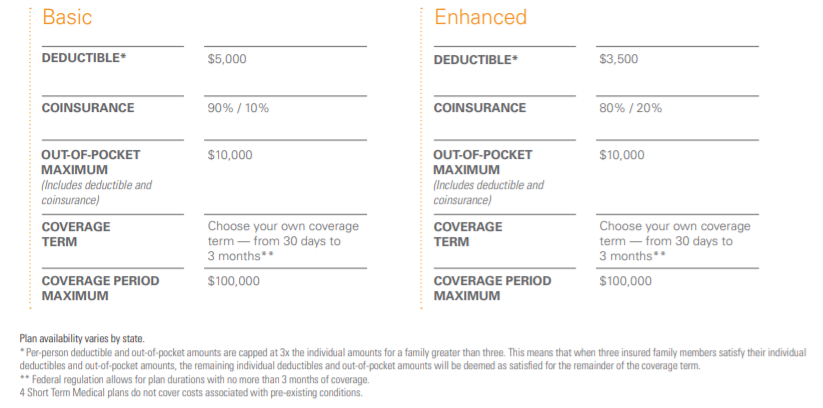 Are National General's Short-Term Health Plans Sold in Every State?
Although short term health insurance plans are not under the federal government's control like ACA health plans and are not required to offer the mandatory essential benefits, the states do control whether or not short term plans can be sold within their borders and there are 11 states where short term health plans cannot be sold.
| | |
| --- | --- |
| California | Colorado |
| Connecticut | Hawaii |
| Maine | Massachusetts |
| New Jersey | New Mexico |
| New York | Rhode Island |
| Vermont | |
| | |
How long is the Policy Period, and Can I Renew My Plan?
Your actual policy period will depend upon the state where you reside. Still, there are federal guidelines concerning the coverage term of a short-term health insurance policy and the number of renewals that can be offered.
The federal government mandates a maximum policy period of less than one year (364 days) and limits renewals to three with maximum coverage of 36 months of consecutive coverage.
What are the Pros and Cons of National General Short-Term Health Insurance?
Knowing that even the best health insurance plan can leave a policyholder with out-of-pocket healthcare expenses, the pros and cons of your short term health plan will depend on the deductible, coinsurance, and maximum benefit you select.
Other advantages and disadvantages the can affect all policyholders are:
Advantages
Quick policy issue – generally in less than three days
premiums are much lower than ACA-compliant plans
Easy enrollment with a limited amount of health questions
Flexible Plan Selection
Disadvantages 
No coverage for pre-existing conditions
No coverage for maternity
Plans do not include all of the ACA essential benefits
Possible additional out-of-pocket expenses if you go to a non-network provider
How much does a National General Short Term plan Cost?
Your cost for short-term health insurance will depend on the deductible, coinsurance, and maximum policy benefit amount you select.
Here are sample monthly rates for a 20-year old male non-smoker who needs coverage for 6 months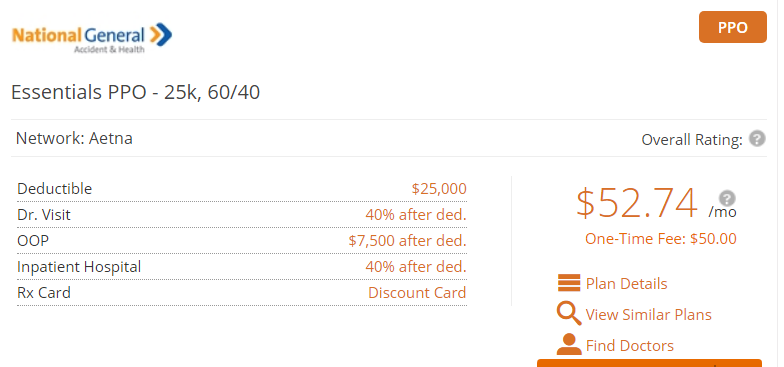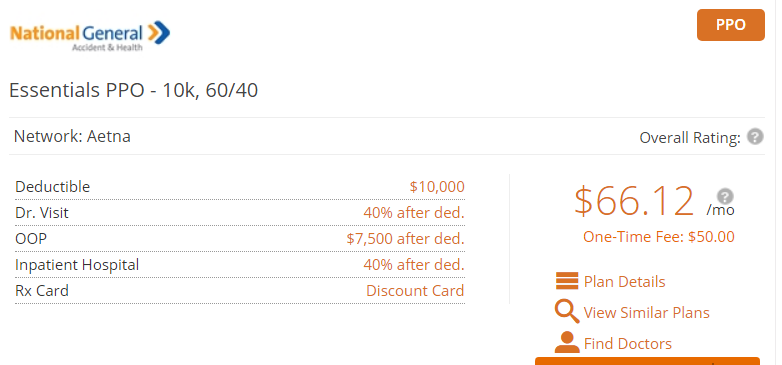 For this hypothetical client, National General offers 17 different short-term health insurance plans, 10 dental insurance plans,  and 69 different accident plans.
GET A FREE PLAN COMPARISON!
Speak with a Plan Specialist
Get In Touch with HealthPlans 2Go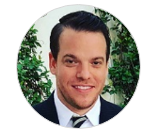 Latest posts by Josh Docktor
(see all)