Medicare Supplement Plan C is one of ten standardized Medicare Supplement plans available throughout the country.
What is Medicare Supplement Plan C? Medicare Supplement Plan C is a type of supplemental health insurance that can be purchased by people who already have Medicare. These plans are designed to fill in the gaps in the original Medicare program.
Easy Article Navigation
These gaps, which are the result of deductibles, copays, and coinsurance, can leave Original Medicare enrollees with significant out-of-pocket expenses every year.
Seniors who might be struggling financially because of healthcare expenses can find peace of mind knowing that their Medicare Supplement plan will pick up most healthcare costs that Original Medicare Part A and B do not cover.
To find out if Medicare Supplement Plan C is right for you, keep reading as we drill down into Medicare Supplement (Medigap) plan C.
What Does Medicare Supplement Plan C Cover?
While most Medigap plans cover most of the common health care costs, Medicare Supplement Plan C goes above and beyond this coverage to include less common medical expenses.
Here are benefits provided by Plan C:
Medicare Part A Coinsurance and Hospital Costs (up to 365 additional days beyond typical Medicare Benefits)
Medicare Part B Coinsurance and Copayments required by Medicare
First 3 pints of Blood for Medical procedures
Medicare Part A Coinsurance for Hospice Care
Coinsurance expenses for Skilled Nursing Facilities
Medicare Part A Deductible
Medicare Part B Deductible*
Foreign Travel Emergency Medical Expenses
It's important to note that effective January 1, 2020, no medicare supplement plan can cover the Medicare Part B deductible unless the applicant first became eligible for Medicare before January 1, 2020. 
What Plan C Doesn't Cover
In Plan C, you can get more than just Medicare Part B coverage. The only benefit not included in Plan C that you can receive from other supplemental insurance is Medicare Part B Excess Charges.
Excess charge coverage can be very important if your doctor or specialist does not accept Medicare assignment and you live in a state that allows physicians to bill for excess charges.
Unless you live in one of the following states, you should only do business with a physician who accepts assignment:
| | |
| --- | --- |
| Connecticut | Massachusetts |
| Minnesota | New York |
| Ohio | Pennsylvania |
| Rhode Island | Vermont |
MEDICARE SUPPLEMENT PLAN C IS NOT MEDICARE PART C!
Oftentimes, many shoppers confuse Medicare Supplement (Medigap) plan C with Original Medicare Part C because of the similar names. Medicare Part C is another name used for Medicare Advantage and not Medigap insurance.
Who is Medicare Supplement Plan C Best Suited For?
Since Plan C is one of the most comprehensive of the ten plans currently available. Seniors who are more concerned about coverage than premium would be a great match for the plan. However, this would only include those seniors who became eligible for Medicare prior to January 1, 2020.
What Other Medicare Supplement Plans are Available
Since all Medicare Supplement plans have been standardized by Medicare, all plans offered by private insurance companies are the same in terms of coverage, but not the same in terms of pricing. Moreover, if you live in Massachusetts, Minnesota, or Wisconsin, the Medicare Supplements available are different than what is being offered in the other 47 states.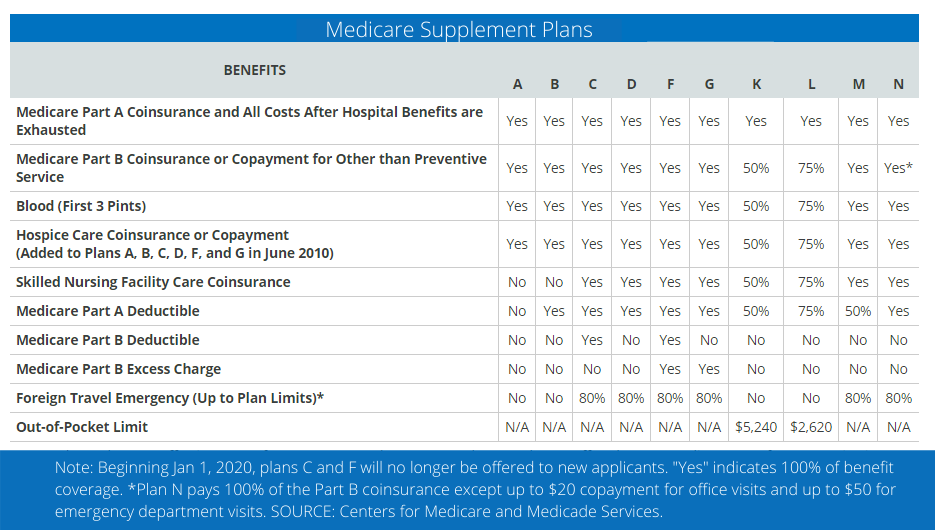 How to Find the Best Medicare Supplement Plans
Today's seniors may be finding it difficult when shopping for the best Medicare Supplement plan that will be best suited for their circumstances and budget.
Especially when you consider that there are ten plans available in most states but only a few available in others. Once you've found the plan that offers the coverage that you feel will meet your individual needs, the only thing left to do is to find the best company with the most affordable rates.
No, you don't have to make a call to every company or even have an insurance agent come to your home. Independent insurance brokers like HealthPlans2Go can do the shopping for you with most of the highly-rated private insurance companies that offer Medicare Supplements.
The independent insurance professionals at HealthPlans2Go can answer all of your questions concerning medicare supplement insurance and rate your policy with multiple companies and deliver the best solution to meet your needs.
HealthPlans2Go will never charge you a fee and there is no obligation to buy. And, even more importantly, HealthPlans2Go will always put the needs of their clients and prospective clients first. Click on the Medicare Comparison button below or call us at 888-773-1181.
Frequently Asked Questions
1.

Is Medicare Supplement Plan C still available in 2021?

Since Medicare Supplement plan C includes coverage for the Medicare Part B deductible, it can only be purchased by individuals who became eligible for Medicare Part A and B before January 1, 2020.

2.

Do Medicare Supplement plans cover pre-existing conditions?

As long as you purchase your Medigap plan during your Open Enrollment Period, the insurance company must cover all pre-existing conditions because of your guaranteed issue rights during your OEP. Additionally, there are a number of states that allow their residents to purchase Medigap plans outside the OEP with guaranteed issue rights.

3.

Can more than one person be covered on a Medicare Supplement plan?

No, since Original Medicare only insures one individual, Medicare Supplement plans will only cover one individual. However, Some insurance companies will offer a discount when a husband and wife purchases coverage from that company.

4.

What are excess charges?

In many states, if you are seeing a physician who does not accept Medicare assignment, that physician can bill you directly for up to 15% over and above the Medicare assignment amount for that service.
GET A FREE PLAN COMPARISON!
Schedule a Virtual Appointment Today!