If you will be turning sixty-five soon or if you've already signed up for Original Medicare Part A and Part B, it's time to consider your Medicare Supplement Plans in Florida.
Easy Article Navigation
Yes, traditional Medicare offers comprehensive coverage for healthcare expenses, but there can be significant out-of-pocket expenses resulting from deductibles, copays, and coinsurance.
Medicare Supplement Insurance was designed to fill those gaps and help Medicare enrollees substantially reduce their portion of medical expenses. Hence the nickname, Medigap.
What is Medicare Supplement Insurance (Medigap), and How does it Work?
A Medicare Supplement plan in Florida is supplemental health insurance that fills in the coverage gaps left to enrollees in Original Medicare except for Medicare Part D.
Although private insurance companies sell Medicare Supplements, Medicare controls what must be in each plan offered by every company approved to sell them in your state. This means that the primary difference between the various insurers that offer  Medicare Supplement plan is the price they charge.
Although an insurance company must offer certain coverages in each plan, they are free to offer additional benefits to differentiate their product offering from their competitors.
Types of Medicare Supplement Insurance Plans Approved in Florida
Florida is one of the 46 states that has authorized standardized Medicare Supplement Plans (Medigap) to be sold in the state. The state of Florida, with its large population of seniors, is a very competitive state for Medigap plans. 
 Plan Comparison Chart Florida 2021: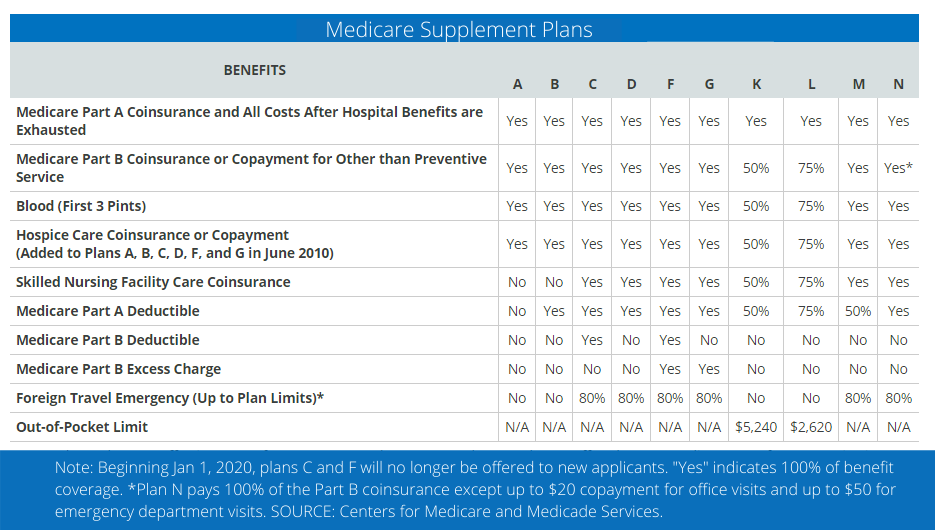 Click Here to see this chart in a larger format.
As you can see from this Comparison Chart Florida 2021, seniors have the choice to purchase a range of plans from basic low-cost plans up to more comprehensive and expensive plans.
When is Open Enrollment for Florida Medigap Plans?
In Florida, seniors who are considering a Medigap plan have an Open Enrollment Period when they can purchase a Medigap plan with guaranteed issue rights. This means that during their Open Enrollment Period, an applicant cannot be denied coverage because of pre-existing conditions.
The Open Enrollment Period for Florida seniors is the six-month period after enrolling in Original Medicare. The insurance company can, however, apply a waiting period of up to six months before coverage for pre-existing conditions will kick in.
The good news is that the policyholder will be covered under Medicare during a pre-existing condition waiting period, and the Medigap company cannot increase your rates because of pre-existing conditions as long as the purchase is during your Open Enrollment Period.
It's important to note that if you buy a plan outside of your open enrollment period, your right to a guaranteed issue policy is no longer applicable.
Even more important is if you have had at least six months of prior creditable coverage (other health insurance) when you are applying for a Medigap policy. The Medigap insurance company cannot apply a waiting period for pre-existing conditions unless there's been a lapse in coverage for more than 63 days.
What are the most popular and best Medigap Plans in Florida?
There are currently ten standardized Medicare Plans available in Florida, although not all are available for new business. The plans run from the most basic and least expensive up to the most comprehensive and most expensive.
Typically, Florida seniors who purchase Medigap plans do so because they want to mitigate the risk of significant out-of-pocket expenses that result from Orignal Medicare's coverage gaps.
If on a fixed income, a Medigap policy will likely prevent a senior from having to go into debt or even cut back on necessities so they can cover their portion of unexpected medical expenses. Let's face it, the cost of health care is certainly not going down in 2021.
As with any insurance product, some plans simply sell better than others. Here we'll discuss the most popular Medicare Supplement plans in Florida:
Plan G
Although Medicare Supplement Plan G doesn't cover the Medicare Part B deductible, it has become very popular since Plan F cannot be sold to applicants who've become eligible for Medicare after January 1, 2020.
However, since the Part B deductible is only $203 in 2021, the lower monthly premium for a Plan G will likely offset the deductible anyway.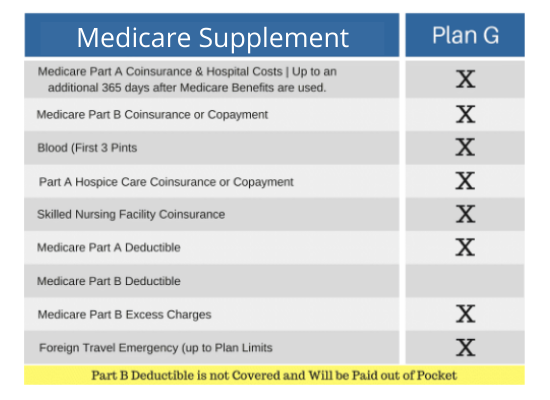 Plan G is a great fit for applicants who:
cannot purchase Plan F

want a credible estimate of annual out-of-pocket expenses

Want a lower premium by choosing the high-deductible option
Plan F
Even though this plan remains very popular, most of its sales are the result of renewals. Even though it costs the most in terms of the monthly premium, its initial popularity is derived from its comprehensive coverage. If you purchase a Plan F, you will virtually have no out-of-pocket healthcare expenses.
Unfortunately, Medicare decided that no Medigap Plan can cover the Part B deductible after January 1, 2020, which means that Plan F as we know it will no longer be available to any applicant who became eligible for Medicare after January 1, 2020.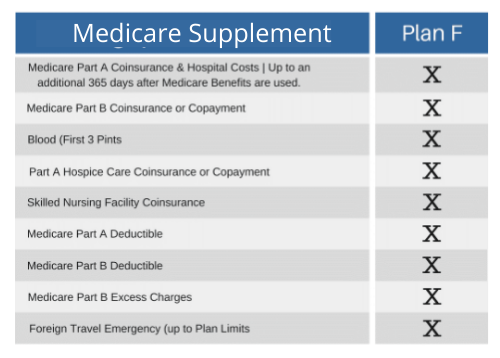 Plan F is a great fit for applicants who:
Became eligible for Medicare before January 1, 2020

Do not want to pay out-of-pocket for healthcare services

Has chosen a doctor that won't accept assignment and will be charged excess charges
Plan N
Medicare Plan N has gained popularity in the last few years because of its affordable pricing with comprehensive benefits. Plan N covers 100% of the policyholder's out-of-pocket expenses for Medicare Part A and Part B, except for the Part B annual deductible and Part B excess charges.
The other drawback with Plan N is that the policyholder is responsible for a small copayment every time you visit the doctor or if you go to the ER.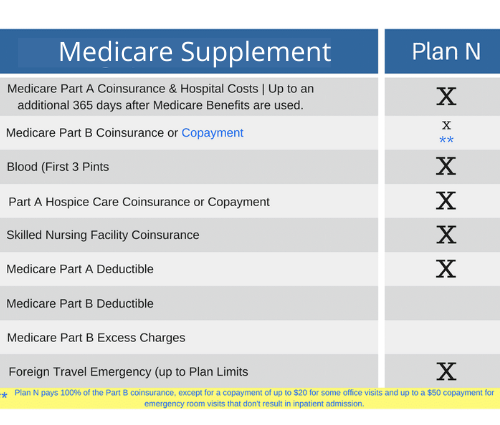 Plan N is an excellent fit for applicants who:
Prefer comprehensive coverage with a low monthly payment

Don't mind a small copay when they visit their doctor

Live in a state that doesn't allow excess coverage charges
Although Plans G, F, and N, are considered the best Medicare Supplement plans in Florida, there are other plans to consider if these three plans will not meet your needs or budget.
Medicare Supplements vs. Medicare Advantage Plans
The primary difference between Medicare Supplements and Medicare Advantage Plans is that Medicare Supplements fill the gaps in Medicare coverage whereas Medicare Advantage Plans take over for Medicare. Medicare Supplements must offer the same coverages as Medicare but Medicare Advantage plans can offer additional coverages like prescription drug coverage and dental, vision, and hearing. These are coverages you will not have when you enroll in Medicare
Moreover, Medicare Supplements were designed to work with Medicare Part A and Medicare Part B and sometimes offer to pay for costs that Original Medicare doesn't provide coverage for, a Medicare Advantage is an alternative to traditional Medicare.
When you enroll in a Medicare Supplement plan, your healthcare expenses are paid by Original Medicare (because you're still enrolled in Medicare) first and then your Medicare Supplement plan picks up its share of the costs. With Medicare Advantage (Medicare Part C) all of your healthcare costs are billed to the insurance company that issued your Medicare Advantage plan.
While most Medicare Advantage companies offer prescription drug coverage. the only way to get that coverage if you have Medicare and a Medicare Supplement is to purchase a stand-alone Medicare Part D plan.
How to buy Florida Medicare Supplement Plans
Even though you can purchase a Medicare Supplement from any licensed insurance agent that offers them, it's always to your advantage to buy your Medicare Supplement from an independent broker who is the most familiar with the many plans that are offered in your state. In almost every case, the plans that are offered will be based on the geographic area you live in so you will typically start your quote with your zip code.
HealthPlans2Go is a Florida-based independent insurance brokerage that represents multiple insurance carriers that offer Medicare Supplements and Medicare Advantage plans. Our insurance professionals are specialists in Florida Medicare Supplement plans but we are not employed by any of the companies we represent.
Operating as an independent insurance broker allows us to represent multiple companies but we are obligated to put the needs of our clients and prospective clients first and foremost. We only represent highly-rated insurance companies that demonstrate strong financial stability, outstanding customer service, and the ability to adequately supplement Medicare Parts A and B.
Speak with a Plan Specialist
GET YOUR FREE QUOTE COMPARISON
 Or Call Us at 888-773-1181
Schedule a Virtual Appointment Today!
ManhattanLife Medicare Supplement Plans
Humana Medicare Supplement Plans
United Healthcare Medicare Supplement Plans
Mutual of Omaha Medicare Supplement Plans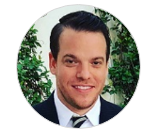 Latest posts by Josh Docktor
(see all)