GET YOUR FREE QUOTE COMPARISON
 Or Call Us at 888-773-1181
What are the advantages and disadvantages of Medicare Advantage Plans?
Medicare Advantage plans are popular private insurance alternatives to Medicare. The good news is they provide you with flexibility and lower costs over time.
Easy Article Navigation
The bad news is that some Medicare Advantage plans can limit the number of providers available to you, cause additional costs, and make certain lifestyles difficult.
In this article, we'll explore the pros and cons of Medicare Advantage plans. And we'll look at the best way to shop for Medicare Advantage and how to enroll.
Medicare Part C is coverage sold by private insurance companies, but it is still part of the original Medicare.
Medicare Part C plans combine original Medicare coverage (Medicare Part A and Medicare Part B) with extra benefits that may include dental, vision, and medications.
The most popular Medicare Advantage plans offer the following coverages:
| | |
| --- | --- |
| Hospitalization Coverage | Some Home Healthcare Services |
| Hospice Care | Physician Coverage |
| Retail Prescription Drug Coverage | Most Preventative Care Services |
| Dental Services | Vision Services |
| Hearing Services | Silver Sneakers Fitness Membership |
Are all Medicare Advantage Plans the Same?
There are many different types of Medicare Advantage plans which allow applicants to have choices based on their circumstances and budget.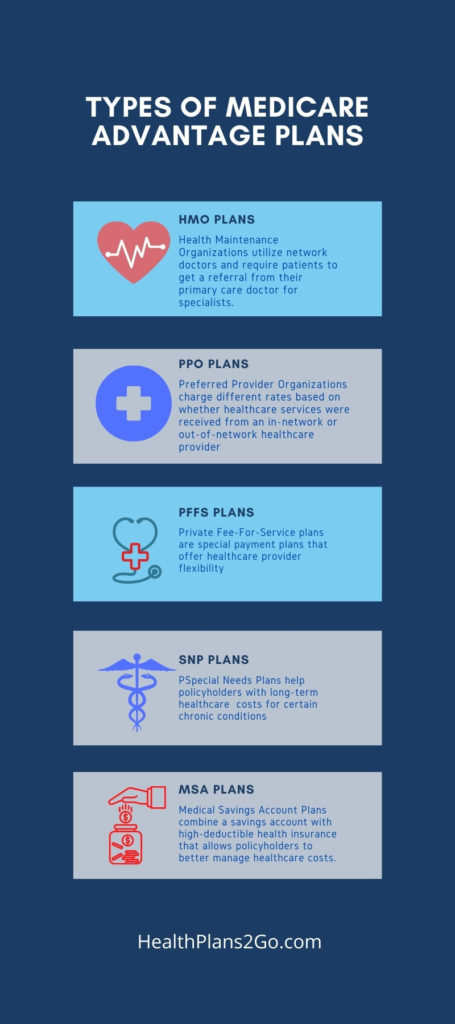 The Advantages of Medicare Advantage Plans
When we stack up a Medicare Advantage Plan (Medicare Part C), next to Original Medicare Part A, B, and D, the Medicare Advantage Plan offers substantially more coverage at very little additional cost.
In fact, depending on the company you select and the geographic area you reside in, some Medicare Advantage plans charge a zero premium, and others provide for the policyholder to receive a refund on their Medicare Part B monthly premium.
With Medicare Advantage, a policyholder receives all of their coverage under one comprehensive health insurance plan rather than having to purchase additional stand-alone coverages.
Additionally, unlike Original Medicare or Medigap, many Medicare Advantage plans have a maximum out-of-pocket limit on healthcare expenses.
Moreover, Medicare Advantage plans can also provide you with medical services and laboratory research. You may also find that you can save on healthcare costs and equipment if you switch to an HMO plan. If you choose a Medicare Advantage plan, you may see even more savings on the care provided by your HMO network.
The Benefit of Coordinated Medical Care
Medicare Advantage is a great option for people looking for coordinated medical care, meaning your doctors and other healthcare providers will communicate and collaborate to coordinate your care.
A major benefit of this is that it can prevent unnecessary healthcare expenses and medication interaction errors.
Studies have found that having coordinated healthcare using a primary care physician, companies received higher ratings from policyholders as well as medical staff.
The Disadvantages of Medicare Advantage Plans
Although the majority of policyholders report they are satisfied with their Medicare Advantage Plan, some plans have some apparent disadvantages when compare with Original Medicare.
Limited service providers – If you choose a Medicare Advantage HMO plan, your plan will limit your healthcare services to physicians and hospitals who are members of that company's HMO network. Although you can choose an out-of-network provider, you will likely pay higher fees than if you use an in-network provider.
Overwhelming Decision Making – Since there are so many health insurers offering multiple Medicare Advantage plans, consumers may get overwhelmed during the health insurance shopping process. In this instance, choosing an experienced and reputable independent health insurance broker is the best way to get help with navigating the Medicare Advantage marketplace.
Plan Limitations in Certain Geographic Areas – Health insurance companies can limit plan offerings according to demographics which means some areas of the country may have a limited selection of Medicare Advantage plans.
Finding a Medicare Advantage Plan that is Right for You
There are many Medicare Advantage plans out there and finding the best plan for you will typically depend on your current health situation and your budget (you must continue to pay your Part B premium).
Rather than contacting each health insurer in your area, it makes better sense to contact an independent health insurance specialist who will likely represent most of the highly-rated health insurance companies in your area.
An independent insurance broker will shop your solution with multiple insurers simultaneously to find the Medicare Advantage plan that is right for you.
Book an Appointment with HealthPlans2Go
Annual Enrollment Period
OCTOBER 15th – DECEMBER 7th
Coverage Begins January 1st
Book an Appointment with HealthPlans2Go
Open Enrollment Period
JANUARY 1st – MARCH 31st
Coverage Begins 1st of the Following Month