GET YOUR FREE QUOTE COMPARISON
 Or Call Us at 888-773-1181
Although Original Medicare provides fairly comprehensive healthcare coverage, seniors find out quickly that because of deductibles, coinsurance, and copays, their out-of-pocket expenses for the care they need will continue to rise year after year.
When seniors become eligible for Medicare, they should immediately begin looking at Medicare Supplement insurance to fill those expensive gaps in Original Medicare.
ManhattanLife is certainly not the most well-known Medicare Supplement insurance company, however, they are very competitive and should be on the shortlist of companies seniors look at to supplement their Original Medicare benefits.
To help you make an informed decision when shopping for Medicare Supplement insurance (Medigap), we will drill down into ManhattanLife to help seniors navigate the vast market of Medicare Supplement Plans.
About ManhattanLife Insurance Company
ManhattanLife is a company with a long history. Their incorporation date was May 29th, 1850, and they were founded by an entrepreneur who had been in the hat-making business, a politician, and a life insurance agent.
Knowing that the company would be structured in a way that would ensure financial stability, ManhattanLife made sure that at least half of their board of directors was comprised of policyholders with individual premiums of at least $100 per year which was a significant amount of money in the mid-1800s.
Moreover, policyholders whose insurance premiums were more than $75 a year were allowed to vote at annual company meetings. By having policyholders involved with the decision-making, ManhattanLife was able to establish itself in a very competitive marketplace.
Unlike their competitors, ManhattanLife is held privately but financially strong enough to compete with the likes of Cigna, Aetna, and Humana in the Medicare Supplement market.
Although ManhattanLife is only ranked by A.M Best rating services, they have a solid rating of B+ (Good) which is lower than most of the other major insurers in the Medicare Supplement marketplace but still a solid indication that they will fulfill promises to their policyholders.
Manhattan Life Medicare Supplement Plans – Lighthouse Series
ManhattanLife has designed a group of plans specifically for seniors and aptly named it their Lighthouse Series.
This group of insurance products consists of Medicare Supplements, Dental Insurance, Vision and Hearing insurance, as well as Cancer, Heart and Stroke coverage, and Short-Term Medical and Home Health Care coverage.
Although there are currently 10 standardized Medigap plans ManhattanLife has decided to offer 5 plans in the states they do business in. The plans available are listed below: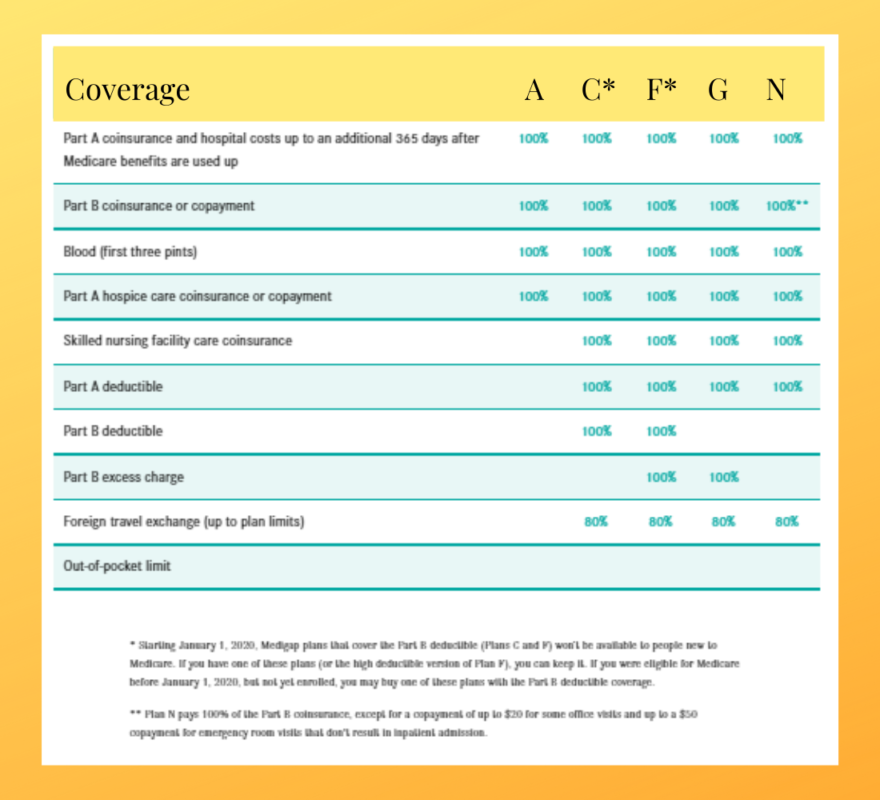 How is Manhattan Life's Medicare Supplement Pricing?
All companies that offer Medicare Supplement plans have different pricing on all of their different plans. Although plan coverages must be the same from company to company, each company can set their prices to be competitive in the marketplace and at the same time make a profit on each policyholder.
Over the years we have found ManhattanLife very competitive or we would likely drop them from our list of carriers.
With any insurance company, premiums are established based on certain underwriting factors such as:
Your Gender
Your age at the time of purchase
The state and area of the state you reside in
Your health (if outside your Initial Enrollment Period)
The Plan you select
Important: Most Medicare Supplement Plans go up each year because of inflation and the increased cost of healthcare services. Knowing this, ask your agent what each company's annual increases amount to so you'll know what to expect as you get older.
Which Medicare Supplement Plans are the Most Popular?
Although most seniors choose their Medicare Supplement plan according to their budget, many seniors consider the benefits they require according to their expected healthcare needs.
Over the years, we have found that the most popular plans are purchased because of the coverages they offer rather than a very low monthly premium. Here are the three most popular plans according to policies in force:
ManhattanLife Plan F
Plan F is the best plan because it covers everything Medicare might not. It doesn't have copays or deductibles to be paid at the doctor or hospital. Plan F has been one of our most popular plans for years, but recently Plan G has taken its place.
Plan F is only available to those who became eligible for Medicare prior to January 1, 2020. Click here to learn more about Plan F.
ManhattanLife Plan G
Plan G is the second most comprehensive plan. It covers everything Plan F does but doesn't cover the Part B deductible. Plan G will save you money every year- if your state offers Plan G, it's worth getting quotes for both Plan F and Plan G to see which is the most cost-effective. A cost comparison for each of these plans is quick and easy. Click here to get more information on Plan G.
ManhattanLife Plan N
Plan N is an increasingly popular plan among Medicare beneficiaries. This plan offers monthly premiums lower than Plan G, but with the same coverage. You will be expected to pay copays for doctor visits and emergency room visits as well as the monthly Part B deductible and any excess charges. Learn more about Plan N here.
How to Find the Best Medicare Supplement That's Right for You
Certainly, seniors shopping for Medicare Supplement Plans can contact each insurance company for plan information and pricing. But, do you really want to spend that much time on the phone or online searching for a plan that's right for you?
Instead, contact an independent health insurance broker who specializes in Medicare. Independent brokers represent insurance companies but they do not work for them. This relationship allows the independent broker to represent many of the highly-rated companies and can deliver the best solution that is right for you.
At HealthPlans2Go, our experienced insurance professionals will gladly provide you with a free personal Medicare Supplement comparison quote and will advocate for you during the shopping, underwriting, and purchasing process.
Call us during normal business hours at (888) 773-1181 or click on the button below for a free and confidential quote to be sent to your inbox.
Schedule a Virtual Appointment Today!